1983. 05
Opened Busan and Gwangju Branches
1984. 05
Manufactured a gas-using flameholder, the first of its kind in Korea, and donated to the 64th National Games
1984. 06
Moved the Seoul Office to Yonsei Bongrae Building, Jung-gu
As the company grew, so did the number of employees at the Seoul Office, reaching 150 people. It moved to a larger office and, around the same time, the 24/7 after-sales service system was constructed.
Released OneTouch Gas Range, the first of its kind in Korea (Model No.: RT-2SV, RT-3SV)
A widely distributed model equipped with safety valves, it gained much popularity from customers at the time.


1985. 07
Established corporate affiliate R&D center
Due to the establishment of a corporate affiliate R&D Center, all R&D activities were divided into two groups, and more professionalized in the process: product development and applied research in development teams while basic research in R&D Center.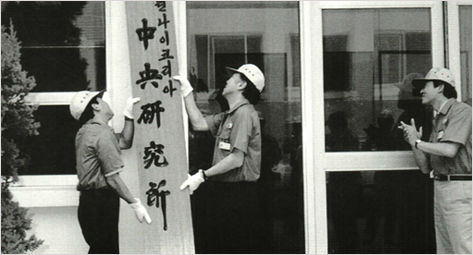 1986. 12
Advanced into the gas boiler business full-scale
As LNG was more widely distributed starting in 1987, Rinnai Korea released its first gas boiler product, making a bold but winning move as the leader of the gas equipment industry.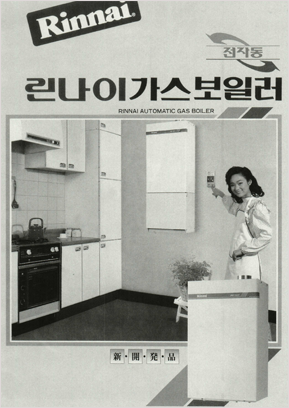 1988. 03
Manufactured and donated the flameholder at the 24th 1988 Seoul Olympics Main Stadium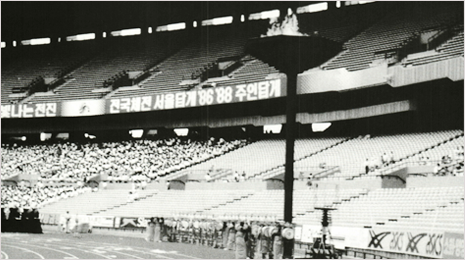 1990. 06
Started 24/7 year-round after-sales service policy
(Operating Before Service and Happy Call)
In the 90s, Rinnai Korea's after-sales service policies became more systematic and were operated to maximize customer satisfaction.