Product News
2015-11-03
Release of all-new electric dishwasher for stores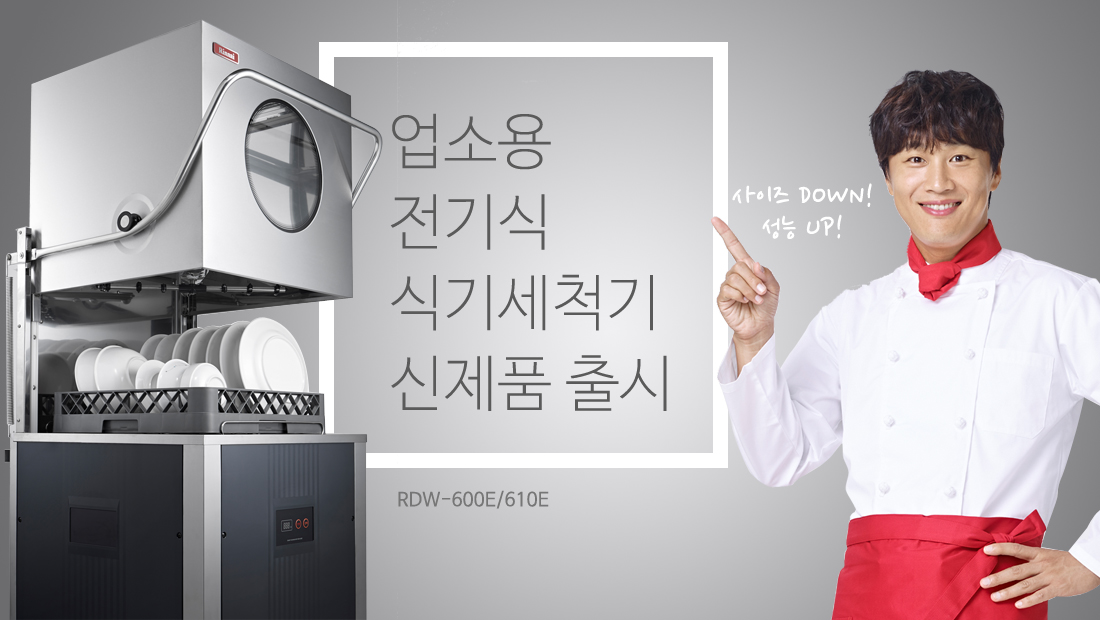 Size DOWN! Performance UP! Rinnai releases all-new electric dishwasher for stores
Its compact size allows to be installed even in cramped kitchens of small stores / guaranteeing powerful cleaning and sterilizing power with high-pressure injection and high-temperature water rinsing / excellent drying effect with high retentiveness of the rinsing water temperature even during continuous cleansing
An all-new electric dishwasher for stores (Model No.: RDW-600E/610E) has been released with even more powerful cleansing power and slimmer design.
This new product has significantly reduced the size compared to the previous model and designed to be conveniently installed even in cramped kitchens in small stores. Also, its high-pressure nozzles at top and bottom enable to perfectly clean the residues and dregs stuck on dishes, obtaining the effect of a high-temperature rinsing at 90ºC as well as outstanding sterilization.
It especially has an excellent drying capability because the temperature of the cleansing water does not significantly drop even during continuous rinsing.

It has been simplified for users to easily use the controls and allows stores to select products that suit the capacity of their cleansing heater (3kW or 5kW), supplying an ample amount of warm water and enabling a more sanitary rinsing.
The application of a non-contact level-sensing technology can perform the level sensing even in a contaminated wash trough and enables a more convenient cleaning since it has no protruded structures such as level or temperature sensors. Compared to competitor products, its long, suspended cleansing nozzle can rinse everywhere evenly without any missing spots.
Moreover, it prevents the phenomena of ponding and, thanks to its slanted design for a smooth drainage, eliminates water more perfectly. Also, it does not have any rack guides welded onto the dishwasher so they can be easily installed or taken detached, enabling an easier cleaning.
10 years after the release of the previous model of the store dishwasher, this new product has been released with solutions to the complaints and inconveniences raised by consumers for the last decade and ambitiously launched with everything completely changed from design to functions. It is anticipated that this new product will bring a new wave to the store dishwasher market.